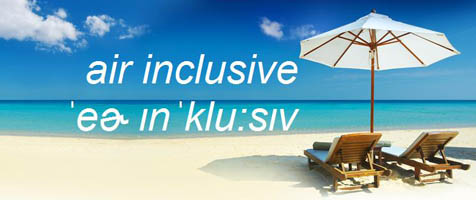 Definition of Air Inclusive.
Air-Inclusive Vacations Definition is a combination of included air transportation with a All Inclusive travel vacation.

Define Air-Inclusive - referring to a price or a travel vacation package that includes airfare (airplane ticket) as well as other All Inclusive vacation components such as resort or hotel rooms, taxes, meals, breakfast, lunch, diner, buffets, snacks, drinks, cocktails, tips, spa, entertainment, land and water sports activities, attractions and more.
You are going to pay only one price at the travel agency and everything will be
included
in the price for your best holiday, trip, wedding, honeymoon or anniversary package. Some resorts and hotels offer also "
All Inclusive
", "
Super All Inclusive
", "
Ultra All Inclusive
", "
Almost All Inclusive
" or "
A-la-Carte
" (European plan vacations) package deals that also can help you to save big money, but they may include different things.
What does "Air Inclusive" mean?
The travel agents and tour operators offer
airline tickets
in addition to an All-Inclusive resort vacation package, for that they have invented a new tourist term - "
AIR INCLUSIVE
". The buyers should expect an all-inclusive vacations package to include a hotel stay, resort room, meals, drinks, taxes, tips, spa, land activities, water activities, tours, transport to and from tourist attractions, and may even include complimentary snorkeling cruises.
What is not included for the
Air-Inclusive
travel vacations: gift shops, rent-a-car, rental equipment, sailing, fishing, scuba diving trips, certificates, tour desk, telephone, Internet, fax services, special wine list, laundry service, money exchange, medical services, special wedding, honeymoon or anniversary packages, tennis lessons, group clinics, private lessons, events and more, room services, spa services, massage, beauty salon and more.
Before you purchase any of your all inclusive travel vacation please ask the travel agency and the hotel or resort company about what is exactly included in the price and what is not.